Clay Aiken at Carowinds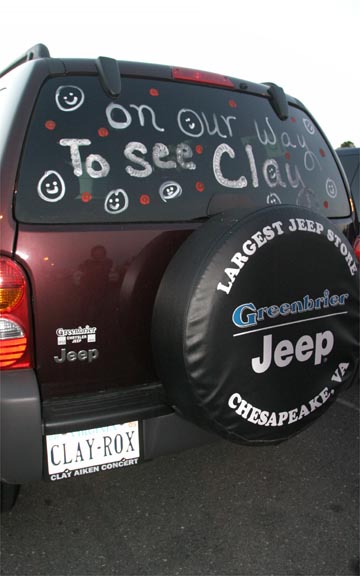 A car parked in the Paramount's Carowinds parking lot by a young Virginia fan shows her dedication to singer Clay Aiken before his concert on Oct. 16, 2004.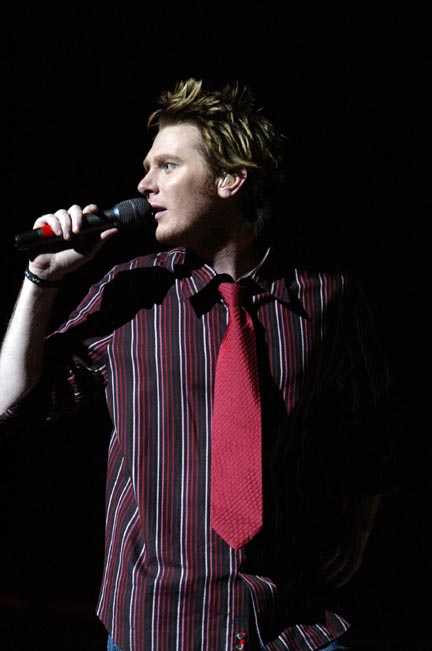 The Carowinds concert, sponsored by House of Blues, was the next-to-last stop of Clay's summer concert tour.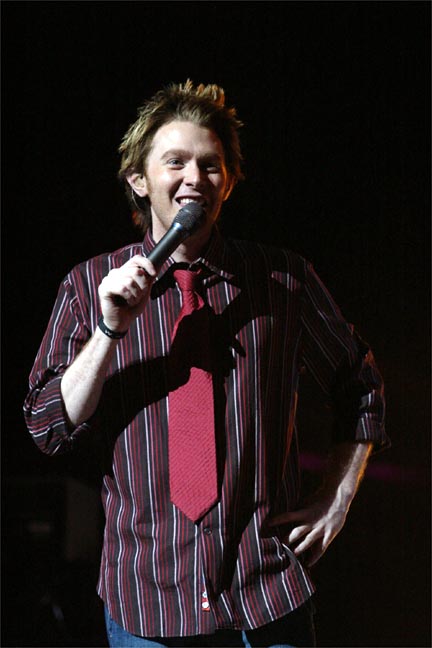 Clay, who grew up in Raleigh, N.C., and graduated from the University of North Carolina at Charlotte, tells the crowd how good it is to be home.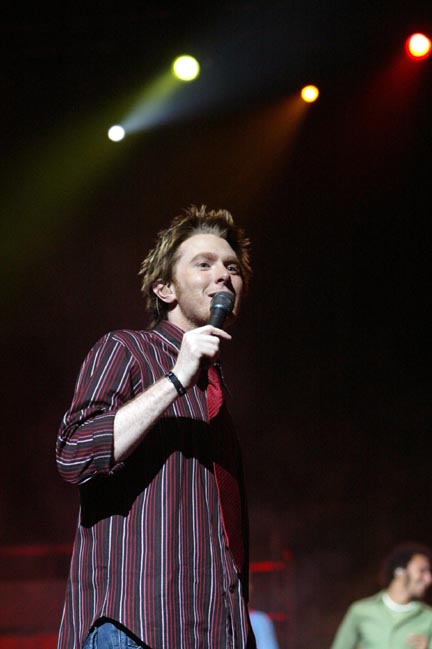 Clay performs "When You Say You Love Me" from his triple platinum CD, "Measure of a Man." Backup singer Jacob Luttrell is in the green shirt.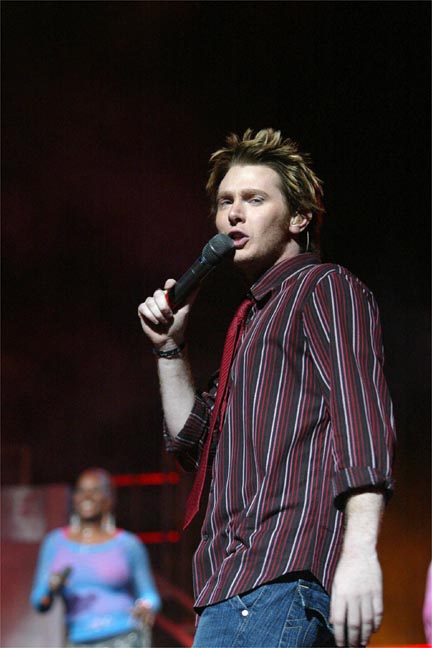 Angela Fisher, in the blue sweater, provides backup for "When You say You Love Me." Also singing backup but not pictured was Quiana Parler of Charleston. Clay and Quiana met when they were both contestants for "American Idol."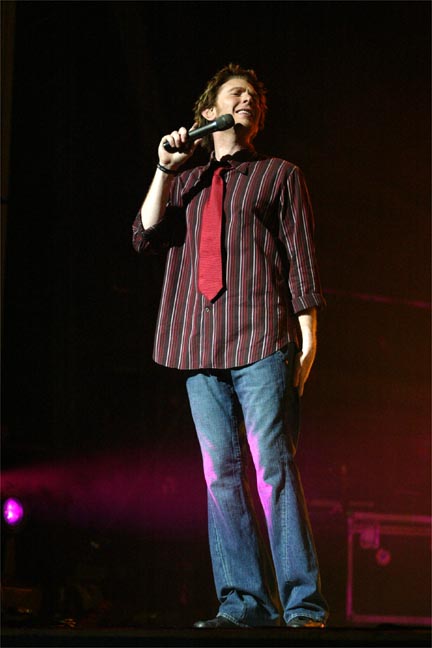 Besides performing songs from "Measure of a Man," Clay covered songs like "Kyrie" by Mr. Mister.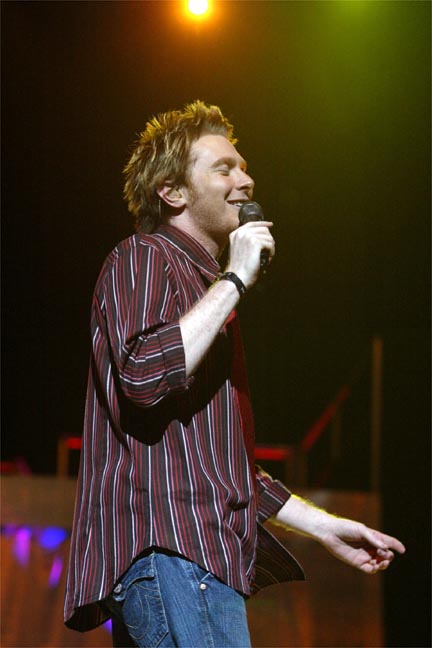 Gold and green lights shine on Clay's spiked hair.
Clay first became know to the public when he competed on the television show "American Idol." During that time and ever since, he has worn a "What Would Jesus Do" bracelet on his right arm.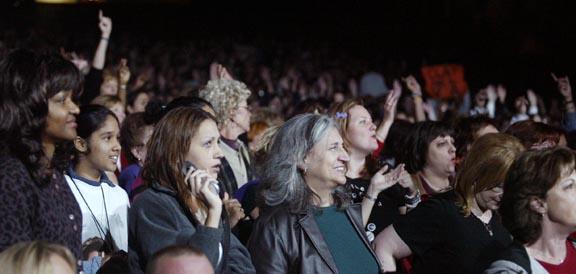 "Cellcerts," where fans call their friends so they can listen by phone, were common during Clay's summer tour.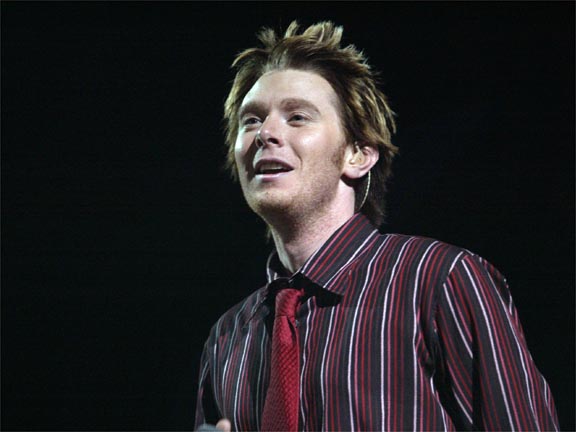 Clay has written a book, co-authored by Allison Glock, called "Learning to Sing: Hearing the Music in Your Life." The book is about his life before and after his success on "American Idol" and how he tries to live his life by the lessons he learned growing up.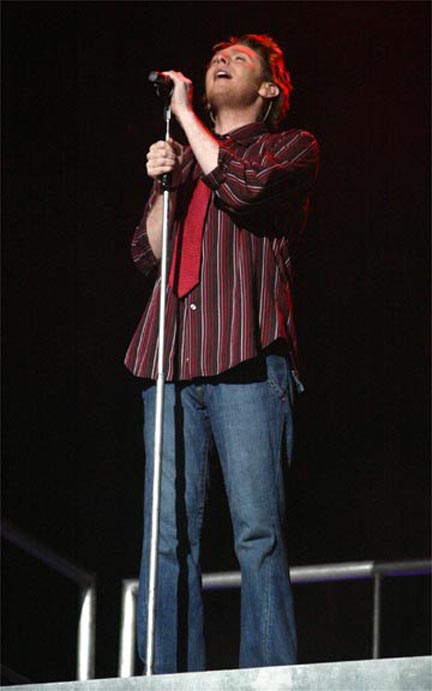 Clay's newest musical venture is a Christmas CD, available in stores on Nov. 11, 2004. He also is embarking on "The Joyful Noise Tour," which will feature him performing holiday songs with a full orchestra.