Lucy Ann Frances McCurry
and William Wheeler Robertson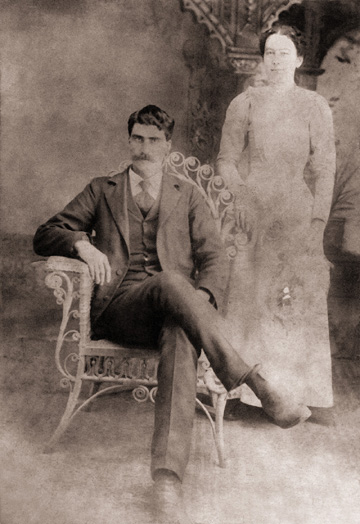 This is the wedding picture of William Wheeler Robertson and Lucy Ann Frances McCurry. Bill was born Feb. 29, 1872, the son of Jonathan Hampton Robertson and Mary Martina (psbl. Martine or Marteen) Biggerstaff Robertson. Lucy was born on Dec. 15, 1877, the daughter of Avery Javan McCurry and Susan Jane Campbell McCurry. This photo was taken from the original print, which is very dark. Lucy appears to be holding a rose and a wide-brim hat in her left hand. I do not know their wedding date. However, their first child, Wilbur Hampton Robertson, was born Jan. 3, 1901, when Lucy was 23 and Bill 28.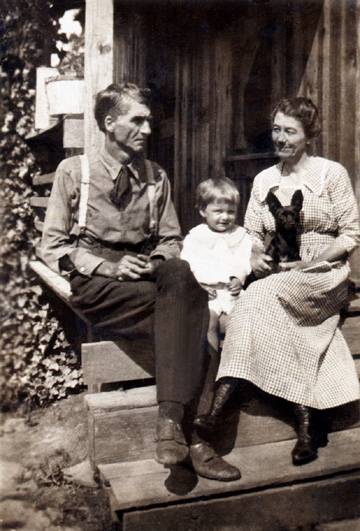 Bill and Lucy with their youngest child, Johnnie Hugh Robertson. Dog unidentified. Johnny was born June 12, 1919, so this picture was taken around 1921, when Bill was 49 and Lucy 44.
(Top)
Four generations of women and a guy thrown in: Lucy Robertson holds great-granddaughter Deborah Anne Navey, born Jan. 15, 1951. Deborah's sister, Cathy Sue Navey, stands beside them with their grandmother, Ina Robertson Farris (that's a cherry tree behind her) and mother, Sarah Farris Navey, in back. Observing on the right is Sarah's younger brother, Richard Stanley Farris.
(Top)
Xxxx.
Xxxx.